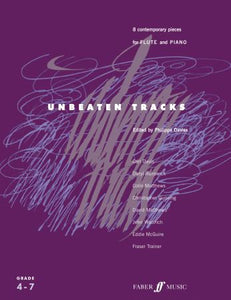 Philippa Davies, Various
Unbeaten Tracks (Flute) introduces contemporary pieces of standard and new to unusual repertoire to the Intermediate flautist player (Grade 4-7), and is paired with piano accompaniment, offering both challenge and reward in equal measure. This book, edited by flautist Philippa Davies, presents 8 a kaleidoscopic mix of styles by some of today's most talented composers and are undoubtedly destined to become standard repertoire.  
The Unbeaten Tracks Series has made a profound mark on the music world with its volumes of specially commissioned pieces for intermediate-level players. There are also small 'biopics' about each composer that give tidbits of information about the composer's inspiration and intention behind their piece, which give musicians a greater insight into the music.
Contents
Carl Davis: Beatrix
Daryl Runswick: Blue Six
John Woolrich: A Sad Song
Colin Matthews: Little Pavane
Christopher Gunning: Waltz For Aggie 
David Matthews: Pieces Of Seven
Eddie McGuire: Caprice 
Fraser Trainer: Outside Lines.