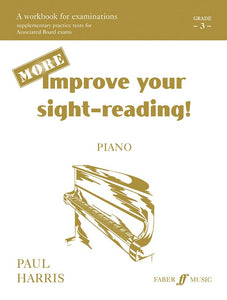 For any performer, the ability to sight-read fluently is an important part of the training, whether intending to play professionally, or simply for enjoyment. By becoming a good sight-reader, the player will be able to learn pieces more quickly, with confidence and assurance. Also, in grade examinations, a good performance in the sight-reading test will result in useful extra marks!
Paul Harris' brilliant series of workbooks, providing additional practice tests for pianists already using the Improve Your Sight-Reading! series all designed to provide further help in overcoming sight-reading problems.
As with the other books in the series, every encouragement is given to allow the player to develop a complete picture of each piece through rhythmic and melodic exercises, the study of a prepared piece with associated questions for students to answer, and finally the real, unprepared sight-reading test itself. As with the first part of the series, mark-boxes for each stage help keep a check on progress.