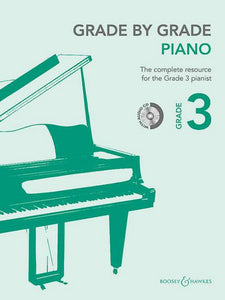 The Grade By Grade series draws on the rich and varied Boosey & Hawkes catalogue of classical, contemporary and educational repertoire, highlighting composers including Serge Prokofieff, Dmitri Shostakovich, Karl Jenkins, Carol Barratt and Christopher Norton, alongside arrangements of traditional music from around the world by Peter Wastall, Vera Gray and others.

Carefully selected by Iain Farrington, this practical anthology provides the complete repertoire resource for the aspiring Grade 3 pianist and creates the perfect package for teaching, exam preparation and performance.

Each volume contains:
a diverse collection of pieces, each complemented by a useful practice and performance tip
grade-appropriate scales and arpeggios linked to the repertoire through bespoke text and exercises
brand new sight-reading and improvisation activities
newly-commissioned aural awareness tasks


Packaged with a CD of full performance demonstrations, piano backing tracks, and grade-appropriate aural awareness resources.

Contents:
B. Bartók: Round Dance from "For Children"
Bernstein & Sondheim: America from "West Side Story"
Traditional: O Waly Waly
B. Martinu: A Little Waltz for Sonika
I. Farrington: Gamelan Glimmer
A. Benjamin: A Song With A Sad Ending from "Fantasies for Piano" 
P. Hughes: Last Tango in Powys 
D. Shostakovich: Suite for Variety Orchestra 
D. Kabalevsky: Playing Ball from "Thirty Pieces for Children" 
Anon: Watkin's Ale
A. Khachaturian: A Little Song from "Pictures of Childhood"
Z. Kodály: Children's Dances
C. Norton: Picnic Piece
Traditional: Londonderry Air 
E. Elgar: Sonatina
A. Wood: Barwick Green from "My Native Heath"
S. Prokofieff: Peter's Theme from "Peter and the Wolf"