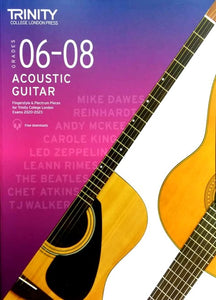 Trinity's new Acoustic Guitar syllabus reinvents the popular Plectrum Guitar syllabus, keeping it vital and relevant to today's guitarist by giving teachers and learners the flexibility to develop fingerstyle and plectrum playing. A selection of the best-loved pieces from the previous syllabus has been retained at every grade for continuity.

This book contains all the exam pieces for Grades 6–8, covering a wide range of styles at each grade — folk, acoustic, rock and pop styles, jazz, blues, country — allowing candidates to follow distinct stylistic pathways as they progress. All pieces are printed in both tablature and standard notation so are accessible for any learner.

Note: As of April 2023, Trinity's Acoustic Guitar 2020-2023 Syllabus will no longer operate with an end date. Therefore, Trinity's Acoustic Guitar Exam Pieces 2020-2023 books will be valid indefinitely (subject to copyright) and any planned updates will be announced at least 12 months in advance. Trinity will be gradually amending the covers on these books upon reprint to 'from 2020', however there are books in circulation with the previous date range. In those cases, the change to syllabus arrangements overrides the dates printed on the cover of the book. Full information about current syllabus arrangements can be found at: https://www.trinitycollege.com/qualifications/music/grade-exams/acoustic-guitar"
PP7